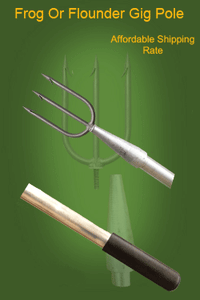 Hybrid Gig and Pole Combo
This combination pole and gig set is all you need to get started! The combination set will allow you to choose which gig you like best, you can choose between any of our 1, 2, 3, 4, or 5 prong hybrid gigs, the aluminum adapter will allow you to interchange hybrid gig(s) quickly.
The primary benefit of using our combination set is freedom to choose which gig you would like to hunt or fish with. Most hunters have more than one shotgun or rifle and most fisherman have more than one fishing pole. So Gigger's you should have the option to choose between more than one gig, and that's what our Hybrid Gig and Pole Combo does. Order today and be ready when the time is right!
The pole is 8 feet in length and 1 inch in diameter.
The gig is made of high quality stainless steel, hand made in the USA, and assembled by certified welders.