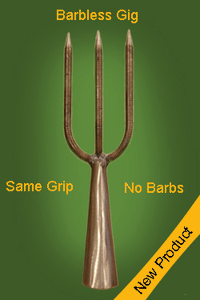 Try something different this 3 Prong Barbless Frog or Flounder Gig is a must see.  The Gig is constructed of 5/16 stainless all thread which makes it strong, durable, and dependable. If your looking for a quality gig you have got to try this gig out!. All our gigs are made from stainless steel, hand made, and assembled by certified welders. We take great pride in our products and only want to manufacture the best.  
You will not be disappointed in the quality or durability of this gig!

Manufactured by frog and flounder giggers for you!