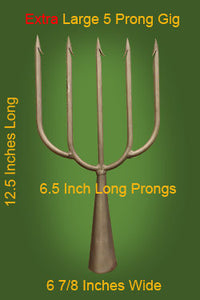 Our Extra Large 5 Prong Gig is made from high quality stainless steel, hand made, and assembled by certified welders. If your gigging catfish, gators, flounder, or anything else that is not of ordinary size this gig is exactly what your looking for.
Product Benefits:
Made of stainless steel
Durable and will last for a long time
Very sharp
The gig mounts easily with one screwFish and Frog Gigs
Mounts to aluminum or wood poles
We take great pride in our products and only want to manufacture the best.
Product Details:
Gig Prong Length 6.5 Inches
Gig Prong Size 5/16 Inches Outside Diameter
Gig Cone Length 5 Inches
Gig Cone End 1 1/8 Inches Inside Diameter
Gig Cone Screw Hole Diameter 3/16 Inches