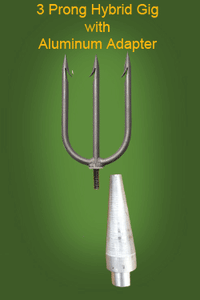 This combination set comes with one of our 3 prong hybrid gigs and 
aluminum

 
adapter, the adapter will allow you to interchange gig heads with all of our 
hybrid
 frog and flounder gigs.  The gig is made of high quality stainless steel, hand made in the USA, and assembled by certified welders. We take great pride in our products and only want to manufacture the best.
   

 



The aluminum adapter has some very special features listed below.
1.  It has a treaded end allowing you to purchase any of the gig heads you see on our site.
2.  Its designed to allow our traditional cone gig to slip over the adapter.
3.  The end has been machined to size so that we can weld it to our perferred pole or you can drill and mount to your own.